Autorstwa: Nathan E. Malpass, ostatnia aktualizacja: 4 września 2019 r
"Yesterday, my best friend dropped my Android phone to the ground by accidentally.So I wanted to buy a new one rather than have it repaired. But I need to get deleted but vital messages back before I buy a new one. Give me a hand.Thanks a lot!"
Porady:
Part 1. Attention! Common Ways to Break Your Android PhonePart 2: Is It Possible to Restore SMS from Broken Android?Part 3: Using USB Cable to Retrieve Data from Broken Android PhoneVideo Guide: Recover Deleted Messages From Android and Broken Android DevicePart 4: How to Get Deleted Messages Back from Android?Part 5: Avoid Losing Data from Android - Backup Tips for Android UsersCzęść 6: Wniosek
Part 1. Attention! Common Ways to Break Your Android Phone
One of the most common problems is to shatter Android phones. Do you know that mobile phones are easily broken by various situations? So, here I summarize the most common conditions that may cause Android to be broken in everyday life:1. The phone is damaged by water soaking. People like to use mobile phones in the toilet. Therefore, it is a common problem that the mobile phone falls into the toilet or toilet. Of course, you can restore your phone by drying it, but there is no guarantee that it will be fine.2. Use a custom operating system to make calls. This is another case where your Android phone can be broken. Although the device is not physically damaged, you cannot use the wrong custom operating system to run the phone3. The phone accidentally fell. When you do something specific on your phone, when you accidentally bump into something, the phone can easily slip out of your hands and cause you to crash.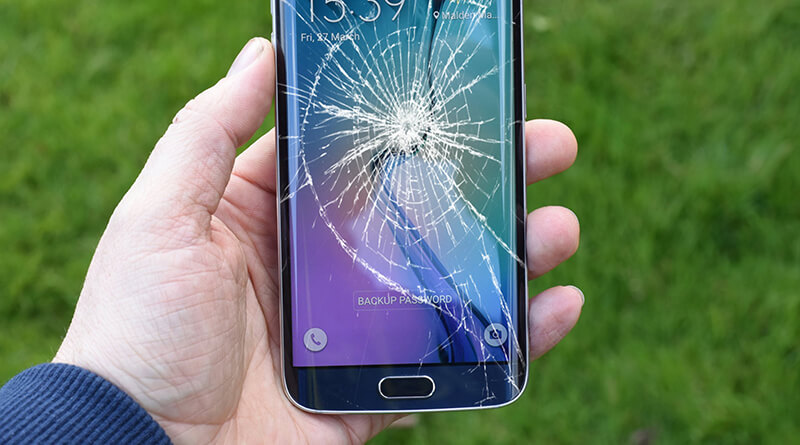 Retrieve SMS from Android or Broken Android
Part 2: Is It Possible to Restore SMS from Broken Android?
If you accidentally broke your Android phone, you can recover your email from your Android phone because most of the data is stored in internal or external memory and they may be safe even if the device is physically damaged. However, getting data on a damaged Android is cumbersome.
Therefore, if you have previously used a Google account to back up your Android, you can easily restore your backup files to other Android phones. But what if you don't have a backup?Android phone is broken, but no backup?
In this case, you need to consider recovering lost messages from a broken Android phone. You can't use your phone to recover lost text messages. You can try to access the SD card and search for the Messages.db file, but most likely you cannot find it.
However, these files are safe, but they require special software to access them. Another problem that may be encountered during the recovery process is that the data is corrupted or damaged at the time of recovery. This will make the entire recovery process in vain.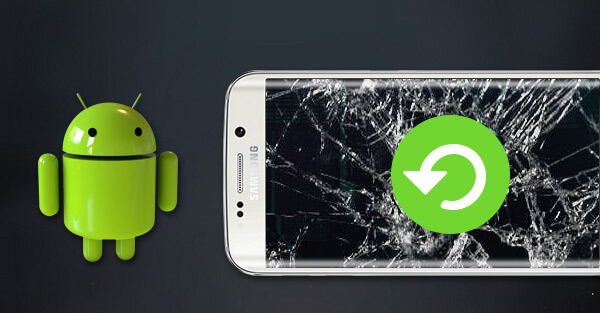 Recover data from Android devices
Part 3: Using USB Cable to Retrieve Data from Broken Android Phone
AutoPlay is an easy way to get data from your Android phone. Follow these steps to restore your mail data to your computer.
Step 1: Connect Cracked Android Devices to PC via USB Cable
Step 2: Once your phone is recognized, an Autoplay will pop up on your PC. Just click the "Open folder to view files" option.
Step 3: Copy and paste the file to be recovered from the failed phone to the PC
Here, you do not have to worry, as far as I know, FoneDog toolkit is the best Android data recovery software can help you for free. Please sit down and read the following tutorial patiently.
You can just quickly learn to how to restore deleted SMS from Android or Broken Android device via watching the Filmy poniżej.
Video Guide: Recover Deleted Messages From Android and Broken Android Device
Part 4: How to Get Deleted Messages Back from Android?
It is an unfortunate fact that many of us on the off-chance may have accidentally deleted an important message on our cell phones. Now, what if you wanted them back because they may have contained crucial information? Well folks, either if it was by accident or fully intentional, the damage has already been done… or has it?
We apologize for the scare but on the bright side to be completely honest and perhaps a relief to those looking to get them back, all of your messages actually still exist. In our smartphones, deleted messages go into a virtual space in which they are fragmented and put on standby to be replaced with something else.
Imagine a paper shredder cutting up documents into itty-bitty pieces and waiting in the bin underneath. Now we know that putting them together physically is simply asking the impossible (except for the CSI), but since this is virtual you barely would even need to bat an eye when using software - such as the FoneDog toolkit - Android Data Recovery.
Now, if you have deleted a message recently or perhaps weeks before, don't worry since chances for retrieving them is very high. So take a breather and sit back, because we have just the solutions for you today!
Aby rozpocząć, pobierz bezpłatnie Android Data Recovery by FoneDog Developer próbować.
Darmowe pobieranie Darmowe pobieranie
Option 1.Recovering Your Messages from Android Device Directly
FoneDog Android Data Recovery is a file recovery software that can scan and find the deleted or lost data from your Android phone and tablet. It is very easy to use, and we have a step-by-step guide for you. Even you have no rich technical knowledge, you can also get back your deleted messages from your Android device with FoneDog Android Data Recovery.
Step 1.Download and Launch the Toolkit - Android Data Recovery
Download and install the toolkit for Android on your computer/laptop or Mac/Windows.Run the toolkit and upon opening the program, you will be met with an interface with several options.
Wybierz "android Odzyskiwanie danych" tab and you will be then met with a prompt where you should connect your device. Do this now.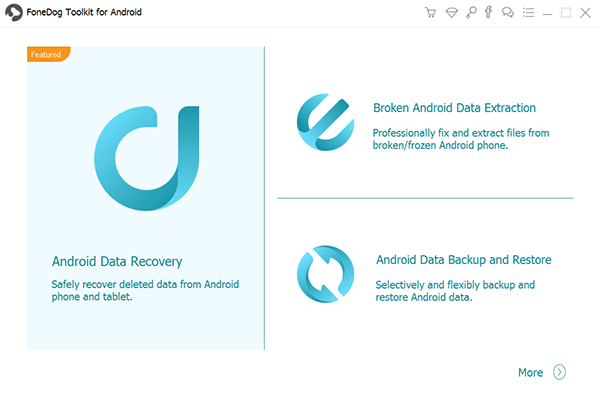 Step 2.Prompt and Debug
Może pojawić się monit o debugowaniu USB. Wybierz 'Zawsze zezwalaj z tego komputera"i uderzył"OK'. You can also enable USB debugging beforehand.
*It is recommended that your Android phone is charged to at least 20% in ensuring a smooth process in the recovery.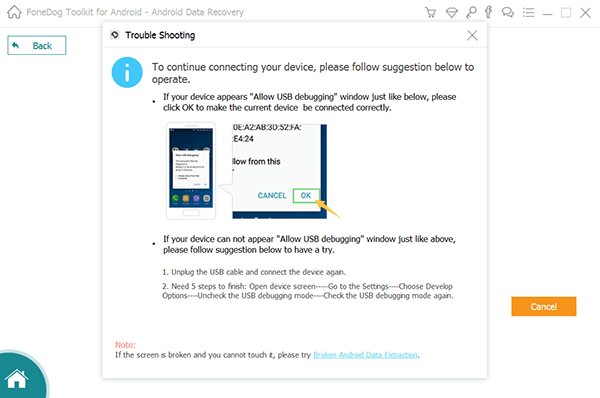 Step 3.Select Needed Massages
Po udanym połączeniu urządzenia możesz teraz wyświetlić okno z kilkoma opcjami, takimi jak "Kontakt","Wiadomości","Audio","Galeria' and more.Find and select 'Komunikatory"z listy i kliknij"Dalej' kontynuować.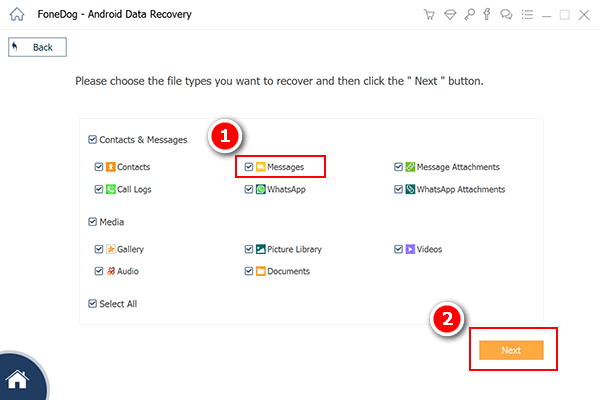 Step 4.Recover Deleted Messages from Android
Zostaniesz poproszony o wybranie albo "Tryb standardowy"lub"Tryb zaawansowany'. We recommend 'Tryb standardowy' as it is recommended for first-time users.
A scan will then commence where all your messages - yes every single one, including current ones - that have been deleted will reappear.Once the scanning is complete, you are then met with all your messages from the past and present.
To recover a message, simply select it and click on 'wyzdrowieć'. You can do this with multiple messages to recover a whole batch or check the box next to 'Messages' to recover everything.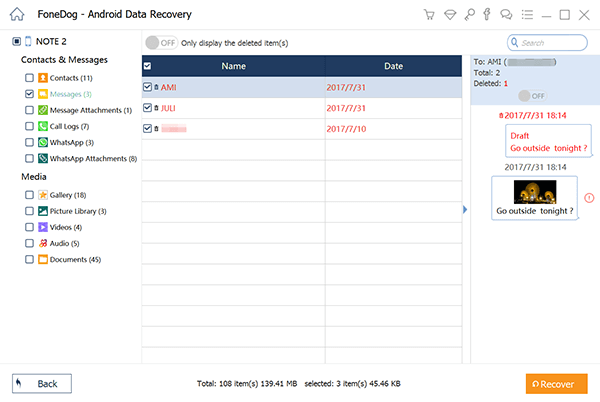 Option2.Restoring Removed SMS from Broken Android Devices
We will now show you how it is possible to recover old messages from an Android device you may have used in the past or discontinued to use. As you can see anything so far is possible with our toolkit, so with that said, let us take a look.
1. Connect Your Android Device to Your Computer.
Z opcji dostępnych w głównym interfejsie wybierz "Uszkodzone wyodrębnianie danych Androida'.From here you can see many options available for you. In this case, we want to select 'Wiadomości' to get back your messages. Select 'Początek"po potwierdzeniu opcji.
2.Enter Download Mode.
A prompt will now appear asking the nature of your broken Android device. Select whichever one is relevant to you.
Teraz zostaniesz zapytany o nazwę swojego urządzenia, a także numer modelu. Proszę odnieść się do numeru modelu, który można znaleźć na pudełku, w którym przyszedł, na samym urządzeniu pod baterią lub na pokwitowaniu. Po zakończeniu naciśnij "Dalej'. Make sure you click on 'dopuszczać' once prompted and hit 'Dalej' right after.
Getting into the download mode you need to follow the instructions on your screen. You would first need to turn off your phone. Followed by pressing and holding the 'Ciszej"przycisk"Strona główna'I'Moc' buttons.
Finally, press the 'Maksymalna objętość' button to successfully enter the mode.After a successful download, analysis, and scan, everything will show in the next part of the program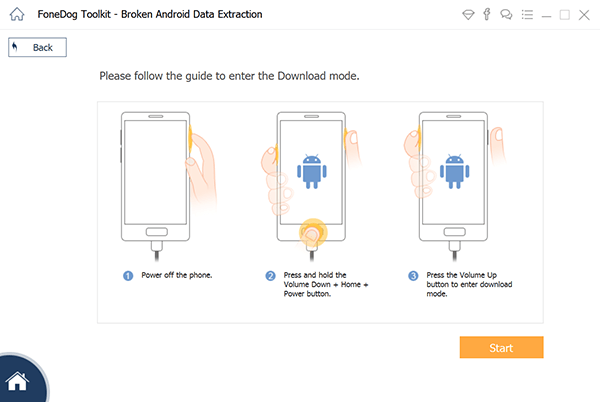 3.Preview and Select Messages You Want to Recover
After a successful download, analysis, and scan, everything will show in the next part of the program. Go into 'Wiadomość' in this case. Preview your messages and select the ones you want to retrieve by pressing 'wyzdrowieć'. Once again you can grab them in batches or all at once.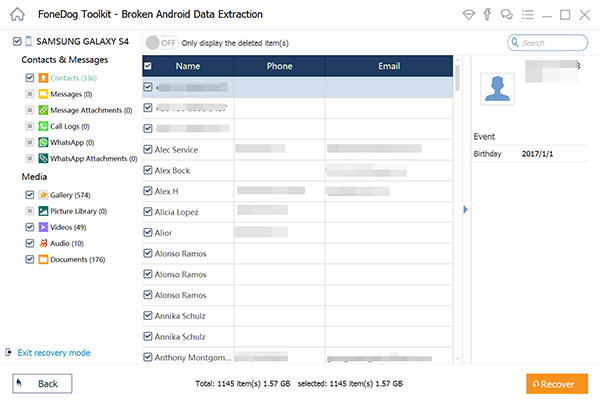 Darmowe pobieranie Darmowe pobieranie
Part 5: Avoid Losing Data from Android - Backup Tips for Android Users
1. Use your Google Account to sync and save mail on your Android device
2. Regularly back up important phone data to prevent data loss.
3. Use cloud services to store your mail file so that it will not be lost.
4. Handle the phone carefully to avoid damage or damage.
5. Use professional software for recovery to ensure data security.Speaking of backing up important files from your Android phone, you can't miss this professional backup assistant - Toolkit - Android Data Backup and Restore from FoneDog. To use the Android toolkit to safely back up deleted shorts from Android to your computer.
Here is a detailed tutorial: Android SMS Backup and Restore from FoneDog, from this article, you can backup and restore SMS selectively.You can refer to one or two.
Część 6: Wniosek
Well, there you have it, folks. All of your messages of utmost importance are finally in your possession once more and that perhaps even that sneaky little tasty rumor. We jest, but at least now you can relax and go on about your daily life without worry. You are welcome.
Our toolkit is vast and provides you with many ways to get your smartphone back up to speed.Also for backing up your data next time, we recommend you using our Android data recovery software for SMS. All of your files will be backed up with the utmost security to give you a peace of mind.
We always want to make sure that you would not need to go through this process again, and if you do, we are always at your disposal to help.With that said, what are you waiting for? Why not give our other products a try if they suit your needs. We guarantee that we have many, if not all, the solutions for all of your Android or Apple devices' needs.