"I deleted my WhatsApp account accidentally, how do I recover WhatsApp messages after deleting the account? I need those conversations very bad."
Every day, quite a few Android users would lose their WhatsApp messages for various reasons. Then, anxious, looking for the methods of WhatsApp messages recovery on Google. However, not all the deleted messages could be back.
Therefore, this article aims to provide Android users with a complete guide on how to recover WhatsApp messages after deleting account.
Part 1: What are Commom WhatsApp Accounts Deleted CausesPart 2. How to Recover WhatsApp Messages after Deleting Account EasilyPart 3. How to Backup and Restore WhatsApp Messages Using Google DriveCzęść 4. WnioskiVideo Guide: How to Retrieve WhatsApp SMS after Deletion of Account
Part 1: What are Commom WhatsApp Accounts Deleted Causes
There are many cases of accidentally deleted WhatsApp accounts due to various reasons and scenarios. Whether by uninstalling WhatsApp account or permanently deleting it, many users tend to forget all the important messages and contents they had and only realizing that it is too late already. The most common of course is by honest mistake that the user initiated the removal. The other reasons could be any of the following:
A software Update on the Android device- which is quite rare unless full of bugs
A Factory Reset was made
Malware or virus infection that triggered the app deletion
I wiele więcej…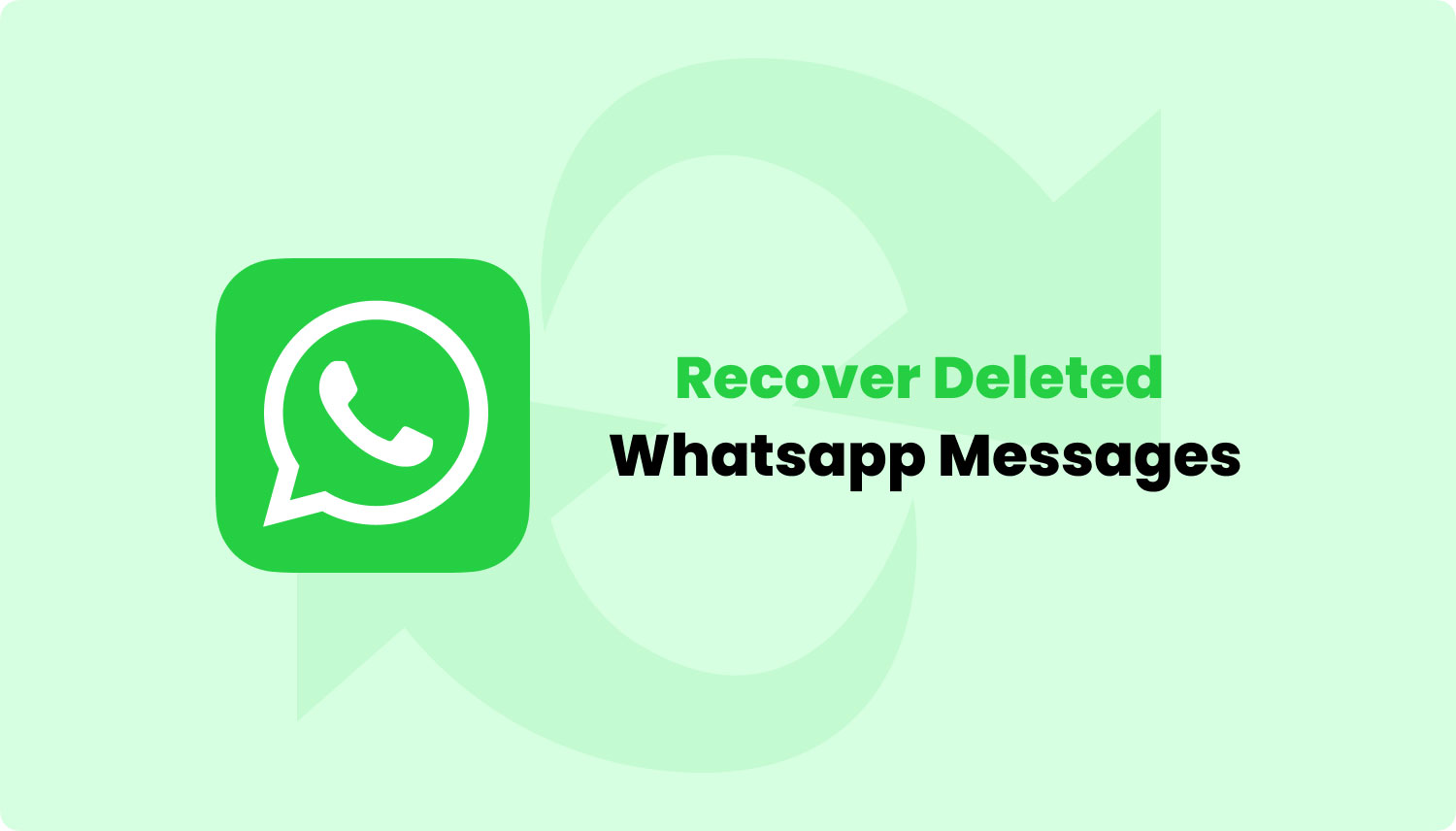 How to Uninstall, SD Card or the Third-party Software
Since WhatsApp is now the most used instant messaging app of all time, it has experienced a lot of common troubleshooting scenarios like deleted messages, groups, and attachments.
However, WhatsApp does not store these contents in their servers especially the messages because it is supporting end-to-end encryption so it is quite difficult to perform the recovery once you have deleted its contents for a long period of time already.
Możesz wykonać kopię zapasową danych like photos, chat histories, attachments and videos over to Google Drive and can recover them easily only when you uninstall WhatsApp on the android device or switching to another phone.
There are also options to manually backup your WhatsApp messages to the SD card or locally but there seems to be no other way to recover deleted WhatsApp messages once you have deleted your account.
The only possible way that you can restore WhatsApp messages after deleting the account is by using alternatives like third party recovery programs wherein they might be able to scan and find those important conversations to realize the Whatsapp account recovery.
Part 2. How to Recover WhatsApp Messages after Deleting Account Easily
Luckily you are still able to retrieve WhatsApp messages after deleting the account za pomocąFoneDog Toolkit - Android Data Recovery.This program has easy to use features that do not require any technical experiences upon using.
Możesz recover lost or deleted files like photos, WhatsApp messages and attachments, contacts, messages, and much more. It protects your Android device by making sure all existing data will not be overwritten while in the process of recovery. To learn how to use FoneDog Toolkit - Android Data Recovery, postępuj zgodnie z tymi przewodnikami:
Darmowe pobieranie Darmowe pobieranie
How to Recover Whatsapp Messages after Account Deletion
Krok 1. Zainstaluj i uruchom FoneDog Android Data Recovery.

Step 2. Connect Android phone to your computer.
Step 3. Choose WhatsApp option or WhatsApp Attachments on the program.

Step 4. Access permission on your Android phone.
Step 5. Scan and preview the deleted WhatsApp messages on Android phone.

Step 6. Selective recovery: select the deleted WhatsApp messages you want.

Step 1. Download, Install and Launch FoneDog Toolkit- Android Data Recovery
FoneDog Toolkit - Android Data Recovery is available for both Windows and Mac so download which one works for you. After downloading, run and install the program by referring to its onscreen instructions.
Uruchomić FoneDog Toolkit - Android Data Recovery right after and begin the recovery process.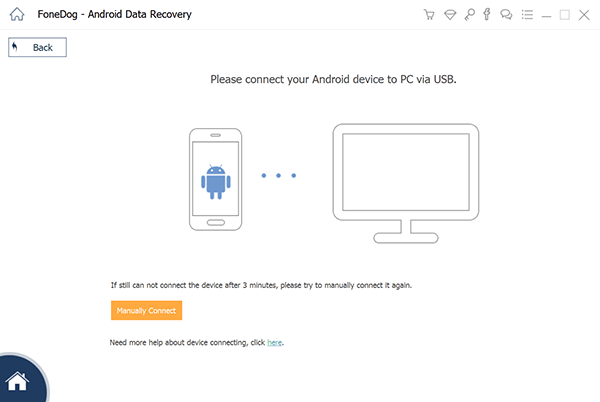 Krok 2. Podłącz telefon z Androidem do komputera
Using your USB cable, connect the two devices, the phone, and the computer. At this point, you need to enable USB debugging to establish the connection by activating it on your Android phone. USB debugging is only for connection and it does not harm your Android device. To enable USB debugging on your Android device, refer to your phone's software version:
For updated Android versions 4.2 higher:
Open Settings from your phone> Scroll and click 'O telefonie'> Find and tap Build Number 7 Times> wait until you see 'Jesteś w trybie programisty' screen> Go back to Settings> Tap and activate Developer Options> Check USB debugging box.
For Android versions 4.1 and lower:
Open Settings from your phone> Tap Developer Options> Enable USB Debugging
After enabling USB debugging, click OK on the computer screen to proceed to the next steps.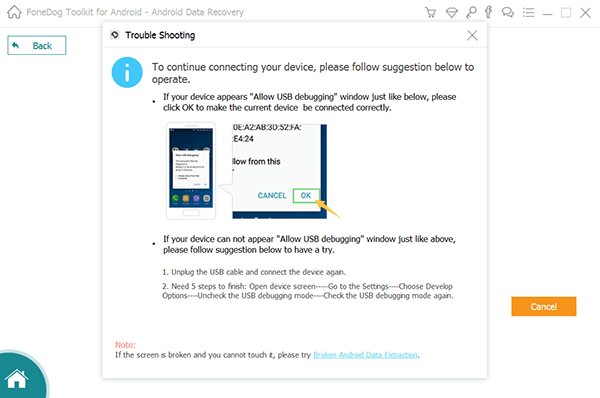 Step 3. Choose WhatsApp and WhatsApp Attachments
When the Android device is finally recognized, you are now able to see this screen wherein you can choose which files to recover.
Here you can see Contacts, Messages, Media files and much more. Since we want to recover WhatsApp messages after deleting the account, then tick on WhatsApp box and if you want to include the attachments then also click WhatsApp attachments and then click Next to continue. If you need to odzyskaj zdjęciawybierz Zdjęcia.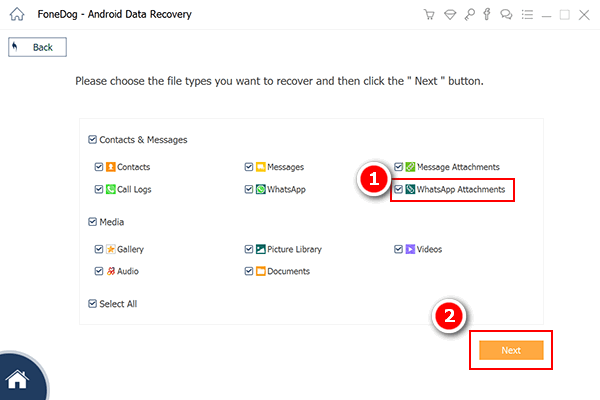 Step 4. Access Permission
FoneDog Toolkit - Android Data Recovery will now scan the device but it will need some privileges to do so. If you see a pop-up screen asking to Allow/Grant/Authorize then confirm it to proceed. If there is no pop-up, click the retry button.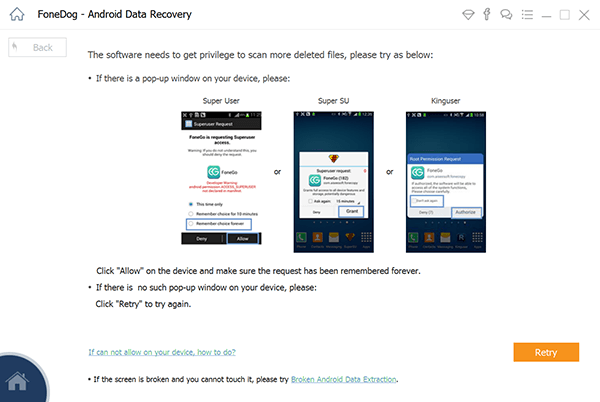 Krok 5. Skanuj i wyświetl podgląd
The program will run a deep scan in order to extract WhatsApp SMS after deleting an account. It may take a while depending on a total load of data needed to be recovered as well as the network connection.
Once the scanning is completed, all the recovered items will be displayed on the screen for preview purposes. Check on every WhatsApp message or conversation to see if you need to recover them.
FoneDog Toolkit - Android Data Recovery allows preview before recovery to provide more client satisfaction. In this way, you are confident that you have seen the desired WhatsApp messages before you download them.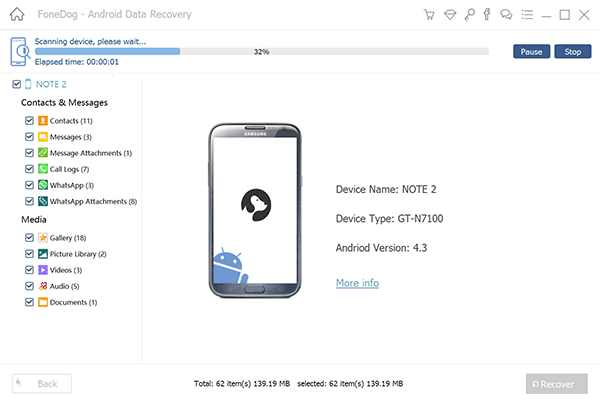 Step 6. Selective Recovery or Select them All
After you have reviewed all the recovered WhatsApp messages, you can now recover them individually or by multiples by ticking the boxes beside each item. FoneDog Toolkit- Android Data Recovery provides selective restore for the faster recovery process.
Click on the Recover button located at the bottom of the screen to save the files on the computer. You can also decide on the output folder location of the recovered items.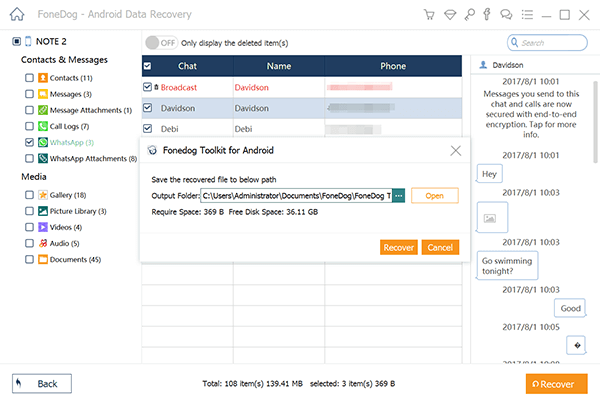 Darmowe pobieranie Darmowe pobieranie
Part 3. How to Backup and Restore WhatsApp Messages Using Google Drive
Before you are able to restore WhatsApp messages, first you need to create a backup to Google Drive. When you have a Google Drive backup, you can easily restore or transfer your WhatsApp messages as long as you have the same verified mobile number and Google account.
There are several things you are supposed to know if you want to recover Whatsapp messages after deleting account through Google Drive.
I. Know How to Backup to Google Drive
If this is the first time you are going to create a Google Drive backup, the entire process will take some time to have your Android phone connected to a power source or at least more than 50% battery life. Here are the steps below:
Uruchom WhatsApp
Naciśnij przycisk menu
Stuknij Ustawienia
Tap Chats and then Chat Backup
You will see the Last Backup (This will show you the last time it backed up your WhatsApp messages to Google Drive) and Google Drive Settings
If you already have an account, press Account and choose your existing account. If you have not yet added a Google Drive account, tap Add Account and follow the onscreen process to register and add account.
II. Learn about How to Register and Add Account to Google Drive
Kliknij "Kopia zapasowa na Dysk Google' and set the time frequency of the backup.
You can also include videos to your backup by ticking the box beside
Always choose to 'Backup over' Wi-Fi to avoid any cellular overages on your postpaid account.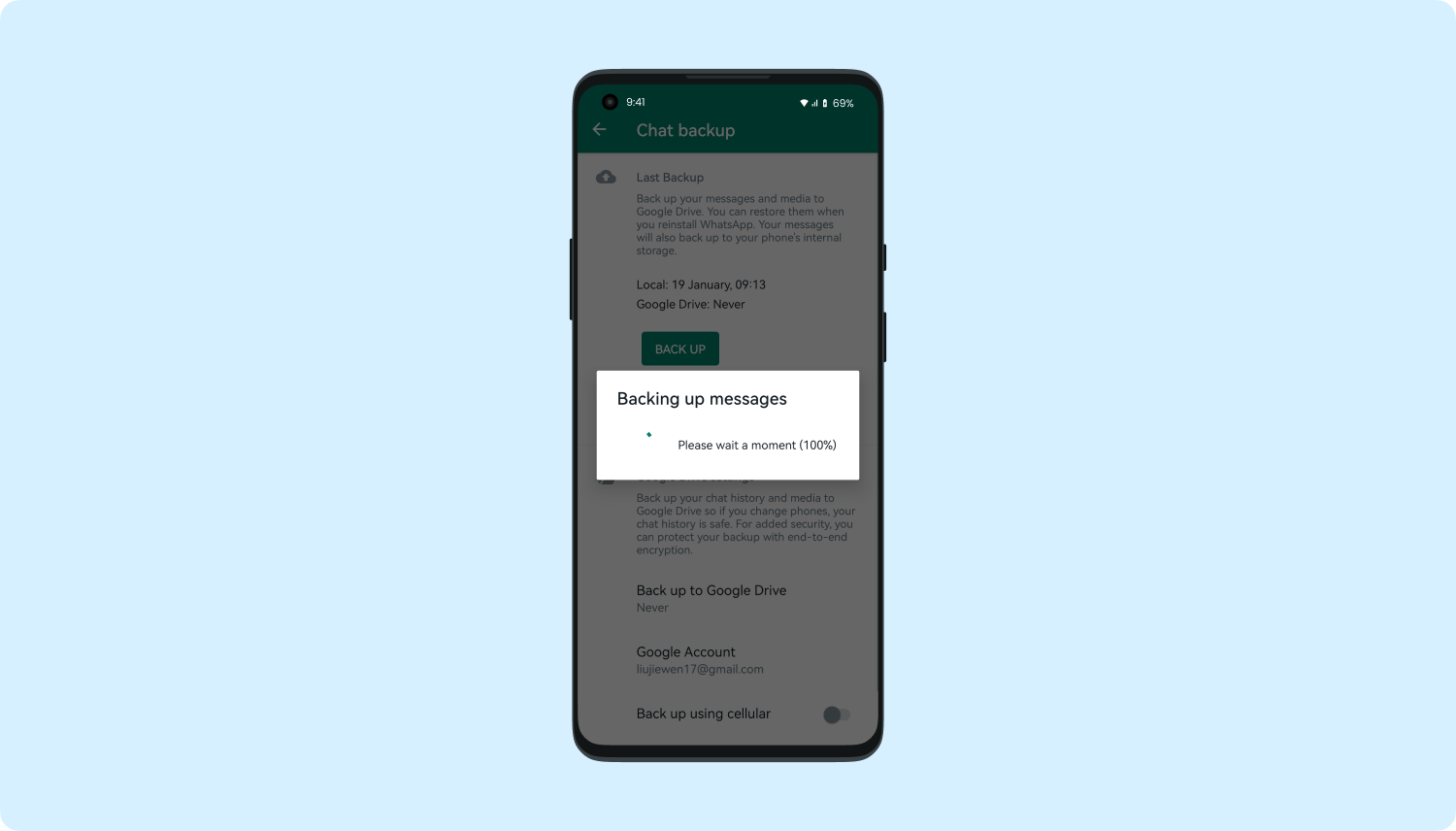 III. Let's See How to Restore Google Drive Backup(Whatsapp messages) after Uninstall
Odinstaluj WhatsApp
Reinstall WhatsApp from Play Store. Follow the installation guides and terms.
After Installation, launch WhatsApp
Enter your details and verify your mobile number. In this way, WhatsApp can detect any backups made by your mobile number and Google Drive account and then will ask you to restore from those backups.
If there are available backups found under your mobile number, WhatsApp will display the 'Przywracania kopii zapasowej"ekran.
Tap Restore and wait until the entire restoration is completed.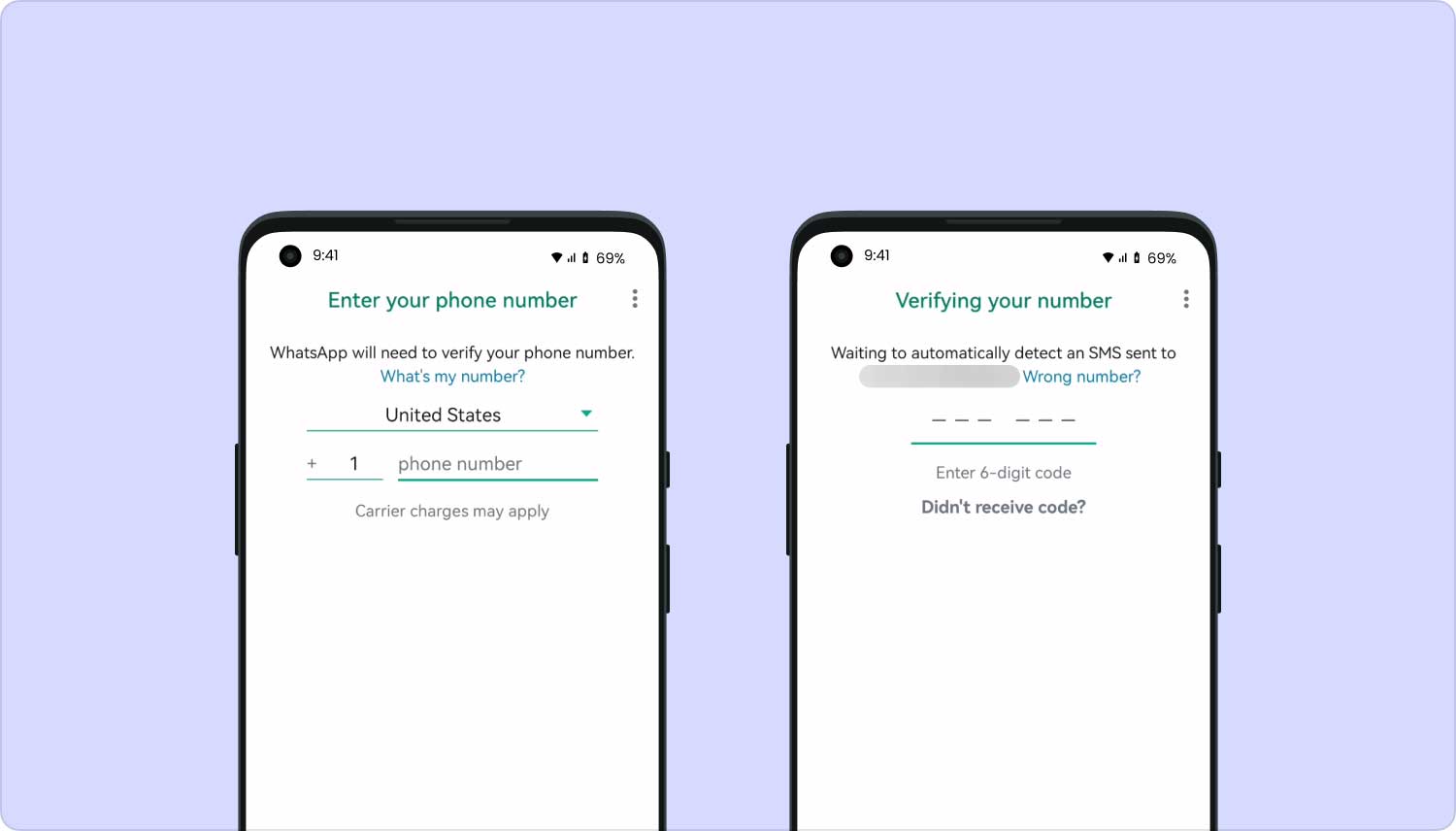 Porady: Remember that every time you create a backup to Google Drive using the same account, it overwrites the previous backup and will replace it with the new one. You are unable to recover older Google Drive backups.
However, if you are looking for options to recover WhatsApp messages after deleting an account from the settings itself, it might be impossible to do so since WhatsApp made it clear that when you delete your account, the process will be irreversible even if you have done it accidentally. If you delete a WhatsApp account, automatically it will:
Delete your account from WhatsApp servers
Erase your entire message history or conversations
Delete your account from all WhatsApp groups you have joined
Delete the whole Google Drive backups made
The only option you have left is by using FoneDog Toolkit - Android Data Recovery. This is a professional program that allows recovery of dokumenty, Galeria, wiadomości, zdjęcia, filmy, A nawet Wiadomości i załączniki WhatsApp. Find out in the next part how FoneDog Toolkit - Android Data Recovery will help you get back deleted WhatsApp messages.
Here is a free download of program Android Data Recovery, you can have a try to download this software and restore kinds of data from Android devices.
Tip Here:
If you have other backup files on an Android/iOS/PC device and want to restore them on another Android/iOS device, Przeniesienie telefonu FoneDog contributes a lot to the data transfer. Here is its download button. Go and have a free trial right now!
Przeniesienie telefonu Przesyłaj pliki między komputerami z systemem iOS, Android i Windows. Łatwe przesyłanie i tworzenie kopii zapasowych wiadomości tekstowych, kontaktów, zdjęć, filmów i muzyki na komputerze. W pełni kompatybilny z systemem iOS 13 i Android 9.0. Darmowe pobieranie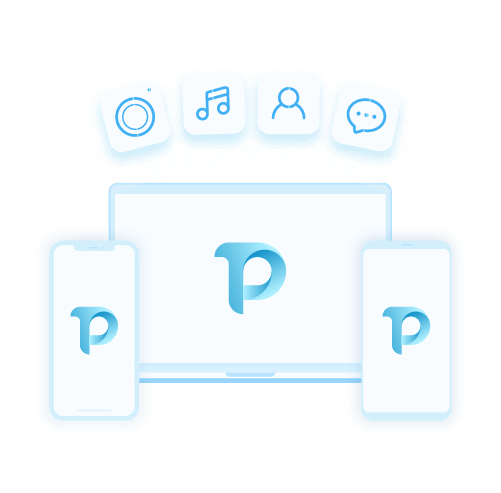 Część 4. Wnioski
There seems to be no more impossibility with today's technology. Every day there are different innovations and developments. One of the amazing mobile solutions ever created was data recovery software.
If you happen to have lost a lot of files before and just shrugged it off, now you can recover anything even restore WhatsApp messages after deleting the account.
FoneDog Toolkit- Odzyskiwanie danych Android will be your top choice for recovery solutions because of its flexible options, safe and secure process as well as the user-friendly environment. It is even compatible with almost all Android devices.
Możesz teraz get back any lost or deleted files in just a matter of few clicks. Find out more about FoneDog Toolkit- Android Data Recovery by downloading its Free Trial version to see for yourself!
Video Guide: How to Retrieve WhatsApp SMS after Deletion of Account